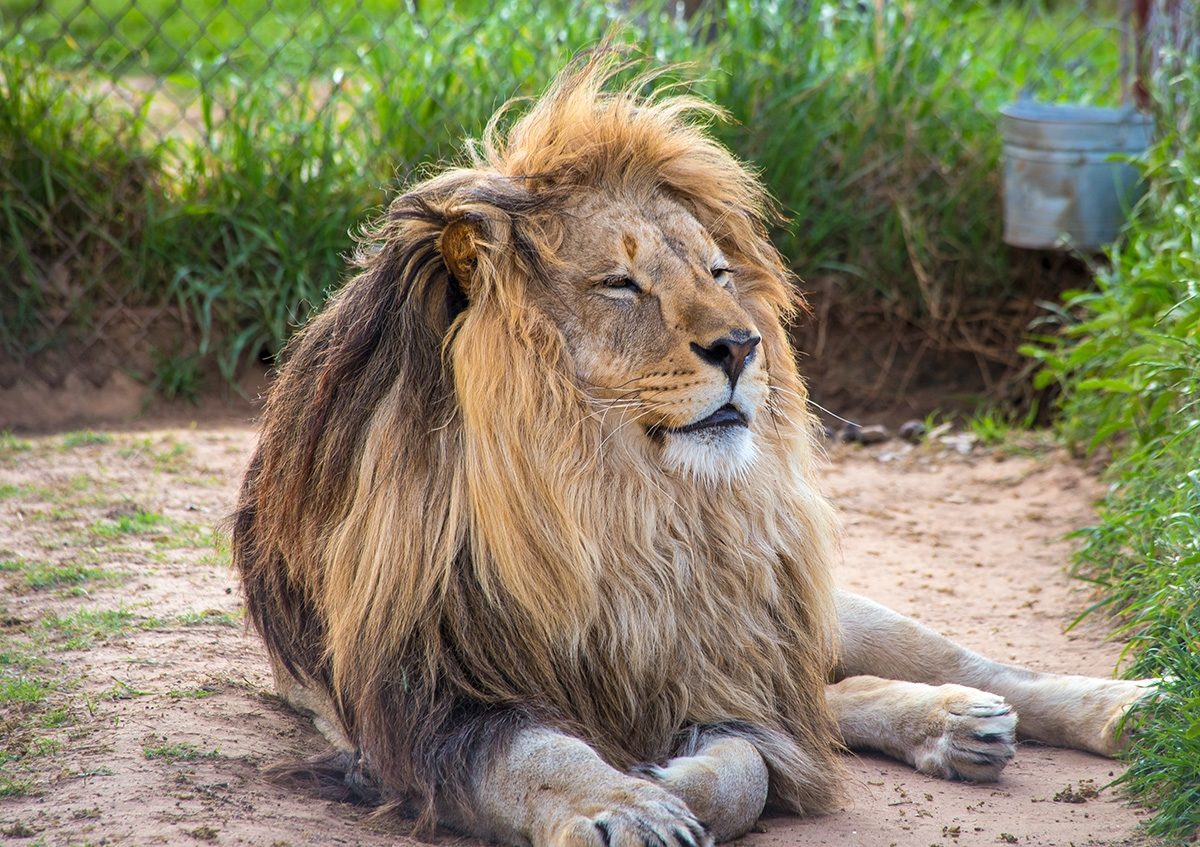 LIONS AND TIGERS… AND LEMURS?… OH MY
Situated on a quiet 27 acres in Bridgeport, The Center for Animal Research and Education is an animal lover's paradise. It is a sanctuary, which by very definition is a place of refuge and safety. Large, well-kept enclosures resembling giant playscapes dot the property. Made secure by the plentiful pipe from the Bridgeport oil fields, they are filled with toys, platforms, caves and even Christmas trees. It feels like a home. C.A.R.E, as it is more commonly known, is a non-profit organization born in 2003 out of a need to rescue, rehabilitate and provide long-term care to mainly large cats including tigers, lions, leopards and cougars. The Center is run by Heidi Krahn, a passionate lover of big cats. She lives on the property and rarely leaves. Saving these animals is her calling, her life's work. For twelve years C.A.R.E. was a 100% volunteer organization. The facility now has one paid employee, Rachel as well as four interns who come from all over the world.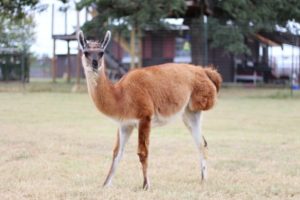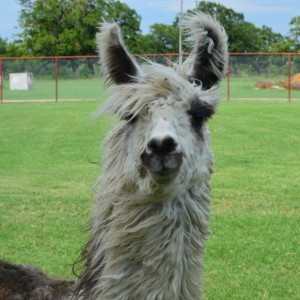 Visitors are first met by Dahlia, a three-legged Guanaco. She resembles a llama but is quite rare. She was a couple of weeks old and only twenty pounds when she was brought to C.A.R.E. with a broken leg. The leg eventually had to be amputated, but Dahlia has adapted wonderfully. She has surprising balance and can run as well as her four-legged counterparts. Dahlia did need a friend, however. Yolo is a shy llama, not very social with people, but she loves Dahlia, and she loves her. Theirs is a friendship born out of a need for companionship. Charlie Doubrava, a Decatur teen, built their enclosure as his Eagle Scout project, proof that the community generously supports this organization.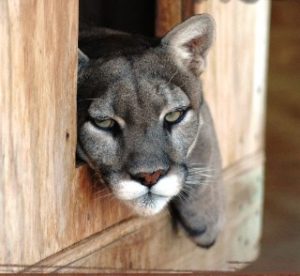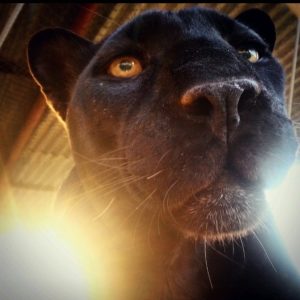 Moving along to the soft sounds of chuffing and the occasional roar, we come to the home of the geriatric leopards. Twenty -year- old Raven, a beautiful, black leopard with piercing yellow eyes and Tawny, a gorgeous seventeen- year- old cougar are spoiled rotten in their heated pens piled high with comfortable bedding. They are thrilled to be in out of the cold. You can tell by their purrs! C.A.R.E. is very fortunate to have these elderly cats whose lifespan in the wild is only about 10-12 years. Newer statistics suggest a tiger only has an average wild lifespan on 8 years.  Their cats have lived upward of 20 years!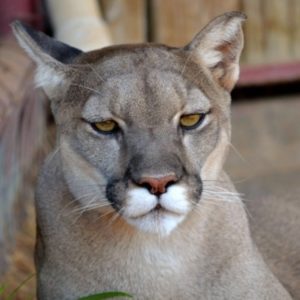 Once outside, we meet Cassie, the cougar. She has a wonderful habitat, complete with a rope bridge, ramps, and platforms she scales up and down with ease. Cassie loves to play ball. You will often see Cassie carrying her ball in her forearms walking on her back feet. She then carries the ball up the ramps or slam-dunks it in her hoop.If she feels jealous because others are getting attention she immediately starts talking and starts exhibiting her gymnastic abilities. In the last few years, Cassie has become quite the internet sensation with her adorable squeaks for attention!
Nearby are bobcats, Max and Mia. Because they were both so young when rescued, they have been placed together and are so happy to have each other. While the two used to look nothing alike, they can now almost pass as siblings.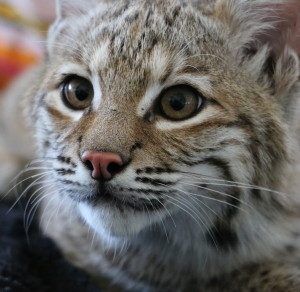 Max's story is unfortunately a common one for young bobcats. His mother was shot and a game warden found him orphaned. He took him in, and then relocated him to a wildlife refuge. The refuge asked us if we could give him a permanent home. By this time he was too habituated to people to be rehabbed and released. Bobcats are incredibly adaptable and live in a variety of environments. The bobcat is vital to controlling pest populations – and eats anything from small rodents to deer.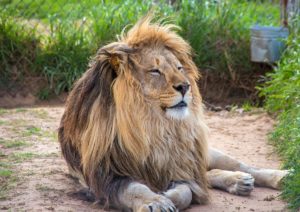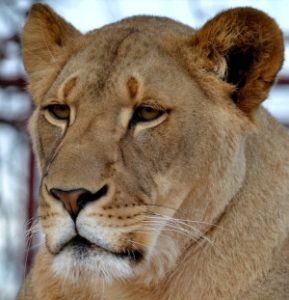 The lions are majestic. Mwali and Noel live in an enclosure at the front of the property. Heidi says Mwali is the most magnificent lion she has ever seen. He has been very sick recently, and the mysterious illness has taken its toll. He is under -weight and his once beautiful mane is thinning and matted. Heidi feared they might lose him, but under her watchful eye and due to the excellent care he is receiving, he is returning to his former glory.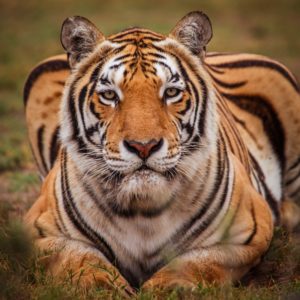 Tigers, both orange and white, seem to come from all directions, each anxious for Heidi's attention. She has a fascinating bond with her big cats. She speaks their language and loves on them all while maintaining a relationship "through the fence." While it is obvious they all adore her, they are still large, strong and unpredictable. To get any closer would just be crazy. JP, a needy orange tiger, follows Heidi as she introduces us to more big cats and tells a story about when an errant duck found itself in Flash's enclosure and terrified the giant white tiger.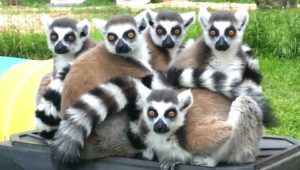 At first glance, the lemur enclosure appears empty. Since these primates originate from Madagascar, they cannot handle cold temperatures. Although the day is very brisk, Heidi lures the cuties out with the promise of blueberries. The slight creatures are exceptionally entertaining albeit high maintenance. They only eat fruits and vegetables which have to be cut up for them. Their enclosures require temperature control and must be cleaned twice daily. Our brief encounter is fascinating. It is disconcerting to see such human-like mannerisms exhibited. While the lemurs did not stay out for long, their uniqueness left us wanting more.
Local farmers and owners bring either dead or dying cows, horses and chickens to the property. They are killed humanely if need be and then stored in a large freezer on the property as food for the cats. No healthy animals are accepted-big cats would not eat healthy specimens in the wild. It has a very "Circle of Life" feel to it.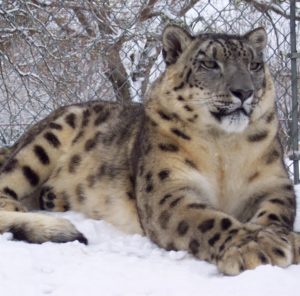 A cemetery on the property commemorates the deceased with plaques. The area feels very reverent and leaves you knowing that these animals have been well loved. When an animal passes away, Heidi orders a complete pathology to help in continuing to provide utmost care.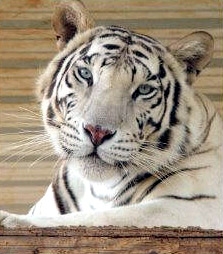 Heidi is passionate about her charges' health and future. C.A.R.E. provides an excellent, controlled environment for study and minimally invasive research. She partners with the National Institute of Health to study disease and longevity. Of particular interest is the fact that white tigers are very prone to Melanoma due to having both extremes of melanin. C.A.R.E. has lost several white tigers to this type of cancer. Together with the N.I.H., the Center is working to isolate the gene.
Heidi is very smart and very willing to discuss tough, ethical issues facing the likely will become extinct cats. Recent studies show there is not enough genetic diversity for tigers to survive more than 20-30 years. People want to argue ethics relating to these animals, but the reality is that there are not answers to many of the questions. The arguments could go on for days, but that is not Heidi's focus. She intends to provide love and long-term care to those that have been entrusted to her. She worries about immediate needs such as water. Especially during times of drought, water is a vital concern. Each enclosure has a pool for the big cats to cool off in during the warm months. It takes all day to fill them because current wells are shallow; it is too expensive to drill deeper wells. She also worries how all her charges will handle the upcoming frigid temperatures, but realizes they will just have to get through it.
The organization participates in Wish List Wednesday through Amazon. Supporters are awesome and most wished for items are snapped up immediately. Still, ongoing needs are great. Adoptions are available for all the animals. The animals do not leave the C.A.R.E. facility; the money helps with each animal's needs. Big cats can be adopted for $100 a month and lemurs for $50 a month. Sponsors are typically very involved with their animal. One individual has been sponsoring for 14 years, and even moved to be closer to her tiger. Another sponsor comes weekly to see the lions.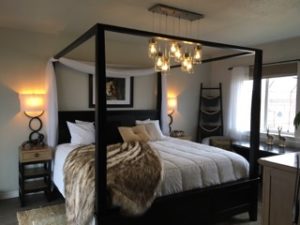 Always thinking of new ways to obtain funds, on September 2nd Heidi opened two luxury suites that overlook both the tiger and lion enclosures. The $1,000 per night suites offer an adult only, 24-hour big cat immersion paired with meals, massages, and opportunities to feed the animals.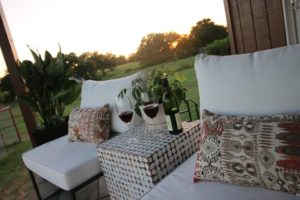 The need is always there. Just weeks ago C.A.R.E. became the new home for four juvenile tigers being from Florida. Two girls, Shaanti and Naya and two boys, Nadal and Divali, are the new stars of the show. Their feet had never touched grass; they had never seen the sky. To say the babies are enjoying their new home would be an understatement! To stand at the fence and watch them is pure joy! You can not only see and hear their happiness; you can feel it. Heidi is ecstatic to welcome a new generation to C.A.R.E.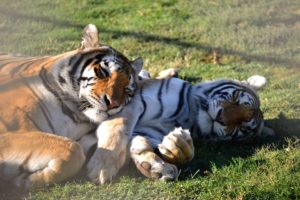 C.A.R.E. is a place to come for perspective. You leave self-centeredness at the front gate. You can ponder what is happening to the earth…how our choices will impact the planet going forward. Visiting this sanctuary is a magical experience that allows the mind to wander. No matter what is going on in your life, you can find peace among these beautiful, loving creatures. You feel grateful for Heidi and her determination to provide a haven for these endangered animals.
For tour and donation information please visit:http://carerescuetexas.com/
"Saving one animal won't change the world, but it will change the world for that one animal" Vicki Davis