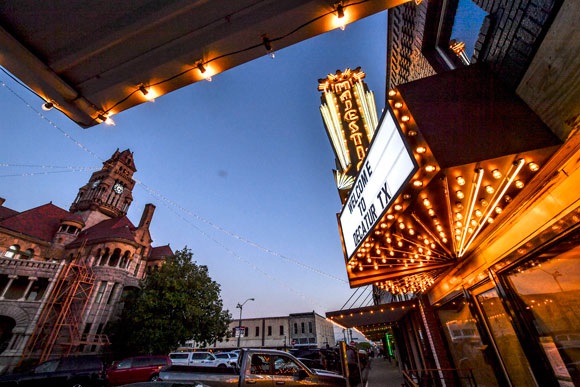 Ifyou haven't already noticed a new shadow falling across the Wise County Courthouse lawn, look west.
The square's latest addition can be found hanging above
119 South State Street. Visit Site
Mark Moran, a local entrepreneur who owns several buildings on the square, said he added the sign to make downtown Decatur even more distinct.
"I wanted it to look like its been up there since the 1950s," Moran said of the sign. "We've got a number of buildings around the square, but I think it really helps downtown as a whole." The brightly lit letters, reading "Majestic," once signified Majestic Theatres, a name brand in entertainment in the early 20th century. The Decatur square was once home to one of the theaters for roughly two decades.
"There's a little bit of history here," Moran said. "There was fire on the west block in 1917. Most of the buildings were destroyed, but one reopened as a Majestic Theatre. It lasted maybe through the '30s or '40s."
Moran said he couldn't help but notice similar signs preserved in the downtown districts of cities like Denton and Dallas.
"I wanted that for our town," he said. "I couldn't ever find [an original Majestic sign] in good shape, and if I did, no one would ever sell it."
A fabrication company based in Austin helped make the dream a reality. The company provided Moran with plans to bring before the Decatur City Council and Main Street Board, where it was met with approval.
Moran said the sign took roughly two months to manufacture and then three days to place on the building, which is set to house The Leather Guy, a custom leather goods store.
Moran said the marquee will be used to promote public events on the square.
---
David Talley, Wise County Messenger – Online Edition, WCMessenger.com, 4/6/2016. View original PDF.