Valentine's Day plans? Need a get-away? Your wedding party needs a place to stay?  Know someone who does? Decatur's best kept- secret is the Courthouse Suites Bed and Breakfast. Three beautifully appointed rooms, each with a distinctive atmosphere, offer warm hospitality for those wanting to escape the hectic city.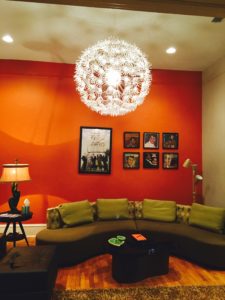 The "Dean Martin Room" provides a living area with a mid-century vibe perfect for channeling your inner "Mad Men" character. This, the most expensive room, offers sweeping views of historic downtown Decatur and the beautiful courthouse.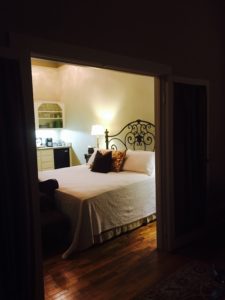 The "Seclusion" room or the "Honeymoon Suite" offers peaceful, airy accommodations decorated in soothing tones and allows the highest level of privacy due to no outside windows. A luxurious soaking tub beckons for relaxation.
The "City Slicker Room," also affectionately referred to as the "Bunkhouse," is well-liked as well as the least expensive. With games lined up to play and even a saddle as an ottoman, this rustic, cozy space feels as if you have been invited into someone's living room.
The suites are all very comfortable and welcoming. Larger parties can be accommodated by opening doors between the rooms making it an ideal location for bridal parties.
Tall ceilings and restored hardwood floors, as well as many original architectural elements such as glass door knobs, push- button light switches, and mail boxes add touches of character.
Scott and Sandy Kostelecky are the enthusiastic new owners of the Bed and Breakfast. They enjoy going the extra mile for their customers. Scott is even learning to perfect a heart made out of Hershey kisses for the bed in the "Honeymoon Suite"!
Amenities include en-suite bathrooms, kitchenettes, a balcony off the back of the building, and lofts in two of the rooms. There is even a half bath in the hallway in case someone in your room is taking too long! The Kosteleckys have recently partnered with Sweetwater Bakery to offer breakfast for their patrons.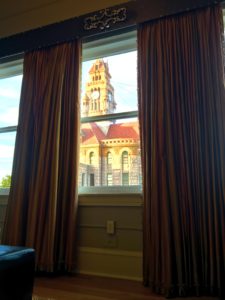 Combining history, comfort and good old- fashioned service make the Courthouse Bed and Breakfast the perfect stop in Decatur.
103A West Main Street
Look for the orange door. 
www.courthousesuites.com
940-627-7005