Bill Marquis has always loved anything old…old buildings, old objects, old people. He loves telling stories and anything that tells a story. He makes his home on land that was part of the original legendary 6666 Ranch. He makes his living restoring and creating. He humbly states that it all came out of "common sense." He appreciates hard work and acknowledges the old way of doing things is just better and well worth the effort.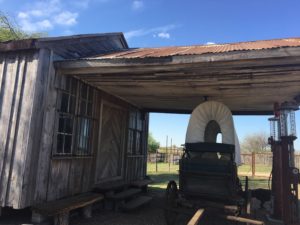 This man whose background is as impressive as his collections and his profession seems larger than life. He is the son of a man who was once picked by General Patton as one of his top five marksmen sent to hunt down Hitler. His father never found Hitler, but he did find his pistol and carried it for the rest of the war.
Visitors to this amazing property will first notice the unusual fence made out of antique tools and implements which leads to even more unique arched gates designed by the Marquis. The land sits on the Balcones fault which runs all the way to Austin, Texas. Marquis extracted Ammonites which are fossils of an extinct group of marine mollusk animals that lived anywhere from 240 to 65 million years ago from his land. The fault makes the soil rich in these fossils which are ribbed, spiral shell forms. Marquis designed and laid patterns in the gates, some resembling flowers, even working with petrified wood and gastroliths (grit swallowed by dinosaurs to help with the digestive process creating smooth, round stones). His wife, June, laid the brick for the gates. She used pavers from Thurber, Texas that were originally from the Fort Worth Stockyard. A man purchased the bricks to build a home, but every time it rained the smell of many years of cattle manure trod into the pavers assaulted the senses. It seems fitting that they found a home here.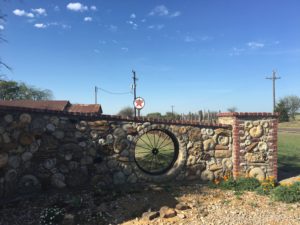 Among flourishing gardens and a meticulously groomed landscape is a giant, spherical rock. Every garden needs a meteorite, right? There is quite a story attached to this one. Legend has it that in 1886 the meteorite was glowing up in the mountains near the little town of San Carlos, Mexico. It was removed and placed in the center of the city with benches around it. People would sit in front the meteorite for healing. Marquis would regularly take hunting groups to the Big Bend area of Texas which is very near the little town. One year he was guiding a group of five couples, and they visited San Carlos. It had been a challenging year of drought, and the 104-year-old patriarch of the town made it known that he would be willing to sell the meteorite. Leaning on a cane, the old man agreed to deliver the meteorite to Texas for $400. Marquis gave him a $200 deposit and set a date to meet him never really expecting the old man to show up. Low and behold on the date arranged six Mexicans in an old truck with poles holding the rock appeared. They dumped the giant stone and drove off. People came from all over to watch the spectacle. Marquis had arranged a dual tandem trailer with a diesel truck for transport, but ten men could not get the rock on the trailer. It took two years to find someone with a semi that was willing to pick up the meteorite. The driver informed Marquis that the rock weighed over 80,000 pounds requiring three backhoes to remove it from the truck. The chunk of debris seamlessly blends into the beautiful landscaping like it was always meant to be there.
Historical buildings also dot the property. Marquis restored a 16×16 cabin built in 1836 where Burk Burnett was born. The Burnetts were forced to relocate to this area after the Jayhawker War in 1859. In front of this cabin, an original Bois D'Arc post from the 6666 Ranch is worked into the split rail fence as well as some pieces of Bill's famed barbed wire collection.
Stony Texas was a prominent place before the railroads. Located halfway between Decatur and Denton it was a perfect stopping place. Marquis began to realize there were just a few buildings left in Stony and each year another one was being destroyed. He gradually moved what remained of the town to his property to restore. His first project was the Stony Baptist Church built in the 1870's which now houses his woodworking shop.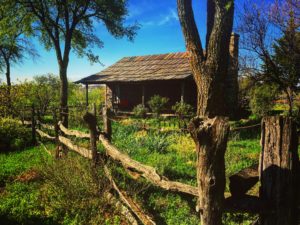 The last store in Stony constructed in 1912 was set for destruction. Marquis was determined to save it so he moved it in 2 days fearing someone would come along and demolish it. The ceiling had completely fallen. He restored it to reveal an exact replication of a general store at the turn of the century complete with a hornet's nest for good luck. The store had originally housed the post office, a barber chair, pay phone and meat market. The original meat counter survives. The barber chair that is now on display was the chair that Clyde Barrow sat in every week while in prison to have his hair cut. Original shelves are home to an astounding array of vintage grocery tin and wooden boxes. His most valuable tin, he is told, is an Edward G Robinson pipe blend tin because it was produced without his permission.
A few years ago, American Pickers of The History Channel fame heard of Marquis' many collections and came for a visit. The hosts were fascinated with his General Store. Bill did not sell them anything, but he was happy to share his historical information with Frank and Mike.
Sadly our time with Bill flew by. He has many more stories to tell, and I could listen to him for ages. Many thanks to Bill Marquis and his lovely wife, June, for sharing their little piece of paradise with us.